As The Students Go, So Goes Our Nation!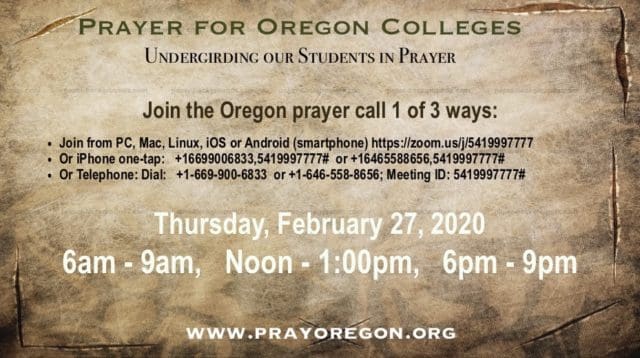 Join us in Oregon as we pray for our college campuses.  If we win the spiritual battles across our nation but neglect our college campuses, all our progress could be undone in a generation. Therefore, students today need our support and earnest prayers. However, college students and faculty don't just need more prayer, they need our UNITED prayer. Genuine, unified prayer is needed for our hopes and dreams for this generation to be realized. According to Matthew 18:18-20, where even 2 or 3 come TOGETHER in His name, there He is with us.
PDF Downloadable: PRAYER SCHEDULE IN OREGON
Sample prayers YOU can pray over Oregon Colleges
The Light of Jesus for students, teachers & staff
Father, we ask You to shine the Light of Jesus over our college(s). We ask You to flood in like a river into every crack and crevice that there would be no shadows, no hiding places for the enemy. We ask You to reveal all of the hidden things in the Light of Your Presence. Father, You know what these students can handle at one time and what would be too much. We ask You to give them this day their daily bread of revelation through Your Light and Word. We ask You, Holy Spirit to lead them to the will of the Father, and that through the discernment of Your Voice, all of their thoughts, decisions and actions might be founded in Truth. May there be a tidal wave of the love of Jesus and Truth coming to our campuses. We give You the glory and honor in all things. Amen.
The Authority of Jesus over campuses
Father, we forgive every student that will be on campus today, every person that has been here, and every person that will be here today. We wash their feet with the Blood of Jesus that the power of all sins are broken and washed away. All curses are broken. All sorcery & witchcraft is dismantled, unraveled, and undone, rendered powerless to harm them. May these students be purified of all unrighteousness, redeemed from every consequence, and restored to the men and women of God that they were created to be. We ask You Lord to shine Your light and love to each student, that they would be found holy and blameless in Your sight.
We wash the land where the campus sits with the Blood of Jesus. We ask that You would unveil within the campus community the unlimited riches of Your glory and favor until supernatural strength floods our innermost beings with Your divine might and explosive power. Let the life of Jesus be released deep inside our schools and let Oregon campuses be a resting place of Your love, the very source and root of our lives.
Empower each person to discover and experience the great magnitude of the astonishing love of Jesus in all its dimensions. Let Your deeply intimate, far-reaching, enduring, inclusive, endless love beyond measurement that transcends our understanding—this extravagant love—pour into our hearts until we are filled to overflowing with the fullness of who You are! Empower the student, staff and teachers to speak Your Word with boldness, that we would stretch out our hands to heal, and that signs and wonders would be done through the name of Jesus. Fill us with Your Holy Spirit as students assemble together and may Your Spirit of Prophecy flow in our midst.
Finally, Lord we welcome Your Presence in Oregon colleges. We ask You to be the love, joy, peace, and faith as You bless all ministry that occurs on the campuses. May it be for Your Glory, Your Honor, and Your Kingdom forever. Amen."