An Event in EVERY City in Oregon May 7, 2020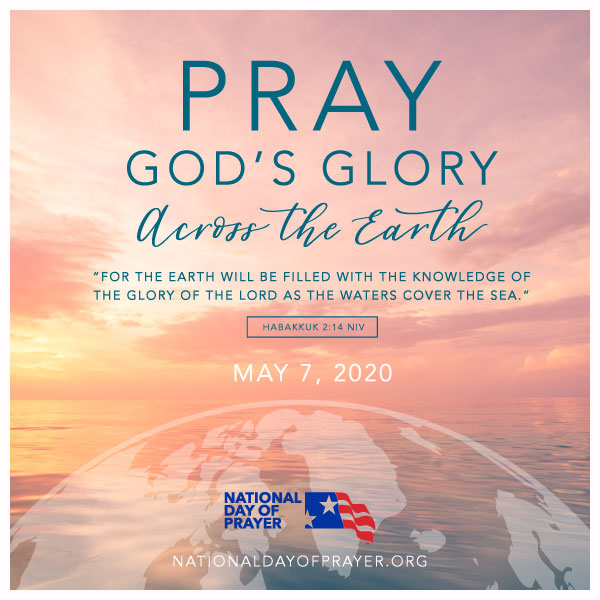 The theme for the annual National Day of Prayer on the first Thursday of May is "Pray God's Glory Across the Earth" from Hab. 2:14. In Oregon we plan to have an event in every city, all 241 of them. Please help us pray for this to take place. See the invitation for weekly Friday 7am prayer following the list of counties. If you would like to volunteer with National Day of Prayer Task Force, please complete the application on the national website.
You can check to see if there is an event coordinator identified for your city by checking the list below. Only those cities that still need someone to plan an event are listed. If you know of someone (you??) willing to help plan an event, please notify Peter by email at [email protected] and include your phone number – mobile preferred if you get text messages, and please note that it is a mobile number.
Cities († indicates county seat) where an event coordinator is needed:
Baker County:
     Greenhorn, Haines, Halfway, Huntington, Richland, Sumpter, Unity
Benton County:
     Adair Village
Clackamas County:
     Barlow, Canby, Estacada, Gladstone, Happy Valley, Johnson City, Rivergrove, Sandy, West Linn, Wilsonville
Clatsop County:
     Astoria †, Cannon Beach, Gearhart
Columbia County:
     Scappoose, Vernonia, Columbia City
Coos County:
     Bandon, Coquille †, Lakeside, Myrtle Point, Powers
Crook County: [all being planned]
Curry County: [all being planned]
Deschutes County:
     La Pine, Sisters
Douglas County:
     Canyonville, Drain, Elkton, Myrtle Creek, Oakland, Riddle, Sutherlin, Winston, Yoncalla
Gilliam County: [all being planned]
Grant County:
     Canyon City †, Dayville, Granite, John Day, Long Creek, Monument, Mount Vernon, Prairie City, Seneca
Harney County:
     Burns †, Hines
Hood River County:
     Cascade Locks, Hood River †
Jackson County:
     Ashland, Central Point, Phoenix, Rogue River, Talent
Jefferson County:
     Culver, Metolius
Josephine County:
     Cave Junction
Klamath County:
     Bonanza, Malin, Merrill
Lake County:
     Paisley
Lane County:
     Coburg, Cottage Grove, Dunes City, Florence, Lowell, Veneta, Westfir
Lincoln County:
     Depoe Bay, Siletz, Waldport, Yachats
Linn County:
     Brownsville, Halsey, Lyons, Mill City, Millersburg, Scio, Sodaville, Tangent, Waterloo
Malheur County:
     Adrian, Jordan Valley, Nyssa, Vale †
Marion County:
     Aumsville, Aurora, Detroit, Donald, Gates, Gervais, Hubbard, Idanha,
Mt. Angel, Scotts Mills, Silverton, St. Paul, Stayton, Sublimity, Turner
Morrow County:
     Boardman, Heppner †, Ione, Irrigon, Lexington
Multnomah County:
     Fairview, Gresham, Maywood Park, Wood Village
Polk County:
     Independence, Monmouth
Sherman County:
     Grass Valley, Moro †, Rufus, Wasco
Tillamook County: [all being planned]
Umatilla County:
     Adams, Athena, Echo, Helix, Milton-Freewater, Pendleton †, Pilot Rock, Stanfield, Ukiah, Umatilla, Weston
Union County:
     Cove, Elgin, Imbler, Island City, La Grande †, North Powder, Summerville, Union
Wallowa County:
     Enterprise †, Joseph, Lostine, Wallowa
Wasco County:
     Antelope, Dufur, Maupin, Mosier, Shaniko, The Dalles †
Washington County:
     Cornelius, Durham, Forest Grove, Gaston, King City, North Plains, Sherwood, Tualatin
Wheeler County:
     Mitchell, Spray
Yamhill County:
     Lafayette, Sheridan, Willamina
You are invited to pray with others across Oregon on Friday mornings 7am – 8am as we "Pray God's Glory Across the Earth" (Hab. 2:14). We use a Zoom conference line. There are 3 ways to connect:
Join from web browser PC, Mac, Linux, iOS or Android: https://zoom.us/j/5419997777
Zoom for iCloud app on SmartPhone with Meeting ID: 5419997777
Or Telephone: 669-900-6833, Meeting ID: 5419997777#
(you can put this whole number in your contacts for ease of dialing) 669-900-6833;5419997777#