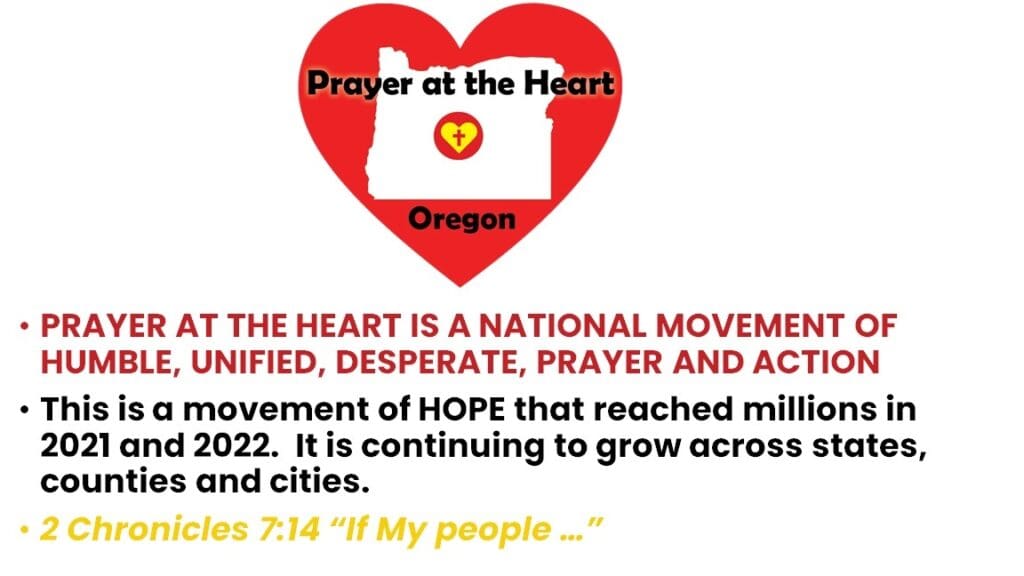 Oregon PATH Mission:
Gather the Church in unity at or near the center of every Oregon County in 2023 to seek God's heart and vision, igniting the church and impacting our state. 
2023 County PATH Vision:
Transform Oregon through Prayer at the Heart in every county in 2023.
2023 PATH Purpose:
Mobilizing Kingdom advancement in every county through prayer, revival, and mission strategies. We will cast vision and be a motivational launching pad to engage the county leadership teams and take ground for our communities and state.
This statewide gathering for individuals and Countywide, Tribal, and Regional Prayer Teams will include speakers, prayer leaders, prayer huddles, and worship. Vance Day is our emcee for this full-day PATH live streamed event.
We will produce video recordings for use to encourage County PATH Gatherings. We will have a "menu" of topics to choose from that will address Kingdom issues and strategies for metro and rural counties. Since each County or Tribe has a different culture, the local teams will determine the best message for their community.
Focused prayer for Portland Metro "Let it be in Portland as it is in Heaven".
Provide resources for developing a structure to support ongoing prayer in your county or region.
PATH YouTube Channel:
Click here for videos prepared for counties to use as desired for their PATH gatherings and other opportunities to unite the Body of Christ.
Promo Flier to Share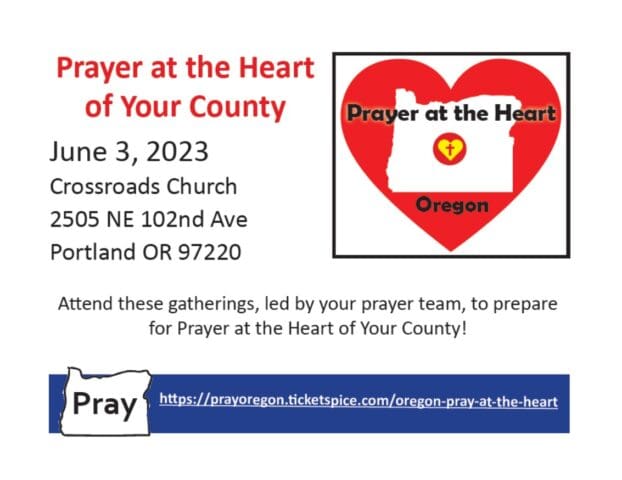 This June 2-3, 2023 state gathering will equip you for your county gathering.
24-Hour Worship starts 8am Friday, June 2nd to prepare the way.  Pray Oregon dinner & annual meeting 5-8pm.  Worship continues through the night until 8am Saturday.    
Main gathering Saturday 9am-5pm, with national and state speakers.  Prayer for Portland metro after lunch.
 WHAT DOES PATH LOOK
LIKE AT A COUNTY LEVEL?
*You pick the date for YOUR county
*Encourage ACTS OF SERVICE AND EVANGELISM in the local communities
*Converge at the HEART of your County
*Worship and Pray for YOUR County, State, and Nation
INVITE CITY AND COUNTY LEADERS 
 INVITE STATE REPS AND SENATORS
INVITE ALL YOUR CHURCHES & PEOPLE
INVITE YOUR WORSHIP TEAMS
INVITE YOUR PRAYER TEAMS
INVITE YOUR COMMUNITIES 
SPEAKERS:
+ Nick Vujicic (by video) "The Broken Hearted" + Lance Wallnau (by video) "7 Mountains"
+ John Whaley (by video), Rooftop Encounter "Seeing My Community with His Eyes"
+ James Autry "Father Heart of God"
+ Linda & Peter "County PATH Vision and Goals"
+ Justin McMahan (by video) "Church Unity"
+ Sen. Suzanne Weber "Government & Education"
+ Garris Elkins (by video) "Author, Mentor, Teacher"
+ Soorin Backer (by video) "Reformation and Revelation"
+ Dr. Negiel Bigpond (by video) "First Nations"
+ Daneen Bottler "Father's House Speaker, Worship Leader, Equipper"
+ Vance Day "James Madison Center for Free Speech"
+ Dr. Alveda King (by video) "Evangelist, Author, Founder of Speak for Life"
+ Gerard Long (by video) "Director of Prayer at The Heart"
+ Justin McMahan "Senior Pastor Living Water Fellowship"
+ Tony Trujillo "Youth Pastor at Father's House"
+ Dr. Lance Wallnau(by video) "International speaker and business consultant"
+ Senator Suzanne Weber "Oregon State Senator, Senate Committee on Education"