Thursday May 2nd & a Follow Up call this Friday 7-8am
Dear Brothers and Sisters in Christ,
Thursday, May 2nd is almost here!! We have waited and prayed for people of faith in Christ to come together to pray for America, that we 'LOVE ONE ANOTHER'.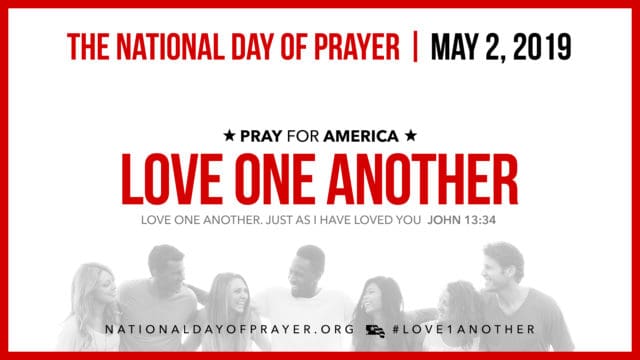 For all those gathering people to pray, a hearty THANK YOU for holding events and supporting others who do. Thank you for encouraging the body of Christ. Here is a checklist for the day:

2. Capture and submit pictures of your event which shows the body of Christ in prayer loving God and loving one another.
3. Be the light of Christ, reflecting Him to all those people to need Him and want the hope that we have. Pray that Holy Spirit will draw people to Jesus and raise up disciple-makers to make disciples.
4. Send your pictures and any and all written descriptions to Pray Oregon or Facebook. Please enter your story and include pictures. Thank you!

5. Come join the Friday May 3rd and May 10th Call 7-8am to tell about your event. We'll share with one another the highlights of our National Day of Prayer.
Connect on Friday 7-8am Pacific Time any of these 3 ways:
1. Join from web browser PC, Mac, Linux, iOS or Android: https://zoom.us/j/5419997777
2. Zoom for iCloud app on Smartphone with Meeting ID: 5419997777
3. Or Telephone: 669-900-6833 or 646-558-8656, Meeting ID: 5419997777 (you can put this whole number in your Contacts for ease of dialing) 669-900-6833;5419997777#
Thank you for your faithfulness to pray,
Peter Carlson and Pam Neighbor
Co-coordinators National Day of Prayer