As I sit here on my couch, reflecting and contemplating the events of the passing year, I am thankful and amazed.
Exactly one year ago on December 31st 2018, I was lying in a hospital bed. Two days prior, I suffered a heart attack and was rushed to the hospital. My heart stopped on the operating table and I was mercifully brought back to life. God's resurrection power and the help of some highly trained Physicians permitted me to move into the next phase of my life. It was a divinely orchestrated "Reset."
Tonight, as I am getting ready to gather at the Salem House of Prayer and pray into the coming new year, I am impacted with the impartation that God is about to give His beloved Bride. I believe the Church of Jesus Christ is in for a wild ride in 2019. There will of course be many challenges, but there will also be a great number of victories and increases.
I believe the Lord is going to come with resurrection power in 2019. Many who have fallen asleep in their spirit, or felt dead in their hearts towards God and others, will suddenly come alive again. The Lord is going to do marvelous things among us.
This coming year will certainly not be a time of endless relaxation and enjoyment. There will be battles to be fought, but there will also be great victories that will propel us into the next new thing the Lord wants to do.
We are always maturing as the Bride of Christ. We are continually being conformed more closely Into His Image. Our speech, our thoughts, and our very actions will become increasingly transformed as we learn to sit at the feet of Jesus and hear His voice more clearly.
Many Believers are going to become less and less satisfied simply going to church or listening to good preaching on the internet. These things are incredibly valuable, but not enough by themselves. The Lord is again going to put an intense hunger in many people's hearts to be with Him and seek His face.
Many will find themselves being drawn into a place of prayer where they seek to have their hunger and thirst satisfied. This well known scripture will personally come alive to them:
"As the deer pants for the water brooks, so pants my soul pants for You O God." Psalm 42:1
This will not simply be a good idea or a song any longer, but a driving force in their life. Some will initially find the place of prayer a place of death and dying, as the Lord removes some of the old things, but then it will become a place of finding new life in the new things He initiates in them. There will be things that end, and there will be things that begin. Change that brings a resetting that will position them more closely to God and help them find their new assignment.
God has been at work preparing us for this heavenly change. A few months ago the Lord begin to speak to me about a reset that was coming to the body of Christ. Then I begin to hear of other Ministries who were feeling the same. The ministry that I give guidance to, the Salem House of Prayer, has gone through radical changes this year, and we're not through yet.
Some have been scary and some have been wonderful but in truth, they have all been directed by the guiding hand of the Lord. We are all going to learn to walk in peace like never before. We must learn to walk upon the water of trouble because there's never going to be a shortage of trouble as we advance towards the coming of the Lord.
However, we are not to fear the trouble, but to embrace it as an opportunity to see the victories of Christ come forth. We are going to learn to speak to the waters of trouble and command them to be still. The peace we carry will extend to our surroundings, affecting them and initiating much needed calm. We will literally change the environment and atmosphere we find ourselves in. We master the waves, the waves do not master us.
This year, some will see loved ones that they have prayed for for years come to Jesus. Sons and Daughters will return home. Difficult addictions will be broken. Pornography that has ravaged the minds of many young men and women will suddenly lose its power. There will be demonstrations of healing unlike some have ever seen. Churches will begin to be known as places one can go to recover from sickness rather than going to the hospital. Miracles will increase dramatically in some regions.
One of the greatest miracles that will begin to happen this year will be seeing the Lord. Many who have been seeking the Lord for years will have their eyes open to see Him. Some in dreams and some while they are wide awake.
I personally had this experience last year while in a prolonged season of seeking the Lord. I spent a week camping out, locked in the House of Prayer to seek the Lord. About the middle of the week I had a dream where Jesus appeared to me and showed me His eyes. He spoke not a word, but just looked into me. His eyes told me everything I needed to know about the current situation I was in.
The kingdom is going to continue to excel as we approach the coming of the Lord. The scripture says in Isaiah 61 that there will be an increase of both light and darkness.
"Arise, shine, for your light has come. And the glory of the Lord is risen upon you. For behold, the darkness shall cover the earth, and deep darkness the people; but the Lord will arise over you, and His glory will be seen upon you. The Gentiles shall come to your light, and kings to the brightness of your rising." Isaiah 60:1-3
We should expect this. We are not to ignore the darkness neither are we to embrace it. We are simply to know that we are in the world to be a light. The light will challenge and change the darkness. Love will overcome hate. The power of the Gospel, the truth that is Christ Jesus, will conquer all lies.
Each day we draw a little closer to the literal physical return of Jesus and the manifestation of His kingdom of God upon the earth. Jesus will sit on a Throne in Jerusalem and all the nations will flow into Him. This is not a fairy-tale, but a reality that is steadily and rapidly approaching, and one He is actively preparing us for.
So set fast your heart Saint of God. Allow Him to change and "Re-set" you again. Do not trust in the things of this world to bring you satisfaction, comfort or deliverance. No government, no amount of money, and no friendship with the world is going to satisfy the longing of our hearts. Draw closer to Jesus in the secret chamber and you will find the grace that you need not only to stand in the day that is coming, but to joyfully overcome and prevail.
And to all who overcome, He will grant them treasures of Presence and abundant Life such as they have only imagined. The Kingdom of Heaven is touching earth. And everywhere it touches, change will come. Some of these changes will be welcomed and others will not. But we have an Eternal King who has promised that only the eternal things will remain. He is going to shake everything that can be shaken, so that only what is eternal will remain. This He does for our good.
"Whose voice then shook the earth; but now He has promised, saying, 'Yet once more I shake not only the earth, but also heaven." Now this [phrase] 'Yet once more,' indicates the removal of those things that are being shaken, as of things that are made, that the things which cannot be shaken may remain." Hebrews 12:26-27
Great and mighty things are ahead for us in 2019. Embrace them with a heart full of joy. Learn to spend time in the secret place. Then go out and find someone to give that treasure too.
In Gods Love, Grace and Mercy,
Jim Moore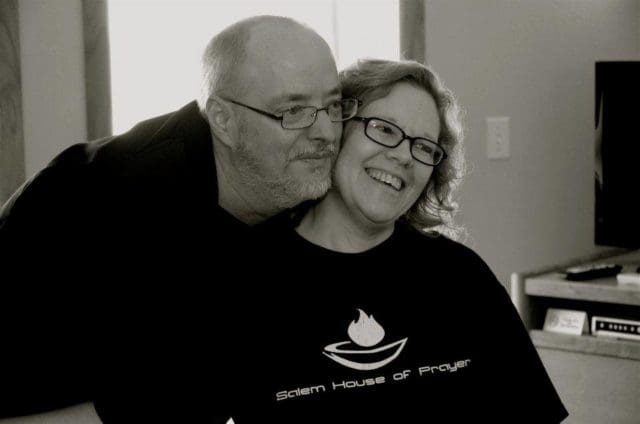 Jim & Linda Moore, Salem House of Prayer