A Time For Change
A Call for the State-Wide Body of Christ to Gather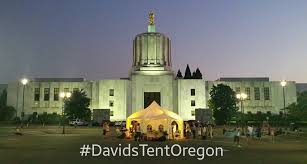 Why We Gather

One year ago, believers in Jesus from approximately 100 cities from all around Oregon came together to pray, worship, and declare the Lordship of Jesus Christ over our State. An event known as "David's Tent Oregon" was designed as a 10 day—24 hour a day prayer and worship meeting, that would call the State-wide body of Christ together to lay aside our differences, and worship the only One worthy to receive such an honor. This unique gathering was based on a firm belief that God meant what He promised, and if His people responded to that promise in faith, He would be faithful to act:

"If My people, which are called by My name, shall humble themselves, and pray, and seek My face, and turn from their wicked ways; then will I hear from heaven, and will forgive their sin, and will heal their land." (2 Chronicles 7:14)
We Gather Because God Answers Prayer

In the last few years it has been my honor to travel around the State with a group of people and discover what God has been up to. What we found is the above scripture has become nearly as well known as John 3:16. In other words, people everywhere have been taking God's promise seriously, by humbling themselves to pray, seek His face, and turn away from their sin. Our part now is to come together corporately, as a State-body, and seek His face together in divinely given expectation that He will most assuredly respond to our cries even more.

The premise is simple. God will act if we act. God will show up if we show up. God will move if we move our hearts toward Him. God is moving, but Oregon is still in grave need of change. We are leading the nation in many unrighteous ways, but change is on the horizon. Each time we pray, more happens. And when we come together in unity, it is like pouring gasoline on the fire of what He's doing.

The recent National Day of Prayer (May 4th), in the city of Salem, the Capitol city of government, 100 pastors and 4,000 Jesus followers gathered in an auditorium to pray for God to come down. And He did.
We Gather Because God Loves Unity

We are beginning to see this same thing happen in various other cities across Oregon. Pastors are coming together in the Spirit of Psalm 133, as the "Aaron's of God", unified not around a doctrine or a mission, but around Jesus. Leaders coming together and crying out for the oil of unity to prevail in their city. Things are taking hold. Things are shifting. At times it may be barely perceptible, but change is nonetheless happening:

      "Behold, how good and how pleasant it is for brethren to dwell together in unity! It is like the precious ointment upon the head, that ran down upon the beard, even Aaron's beard: that went down to the skirts of his garments; as the dew of Hermon, and as the dew that descended upon the mountains of Zion: for there the LORD commanded the blessing, even life for evermore." (Psalm 133)

David's Tent is a literal tent pitched on the Capitol grounds that will run 24/7 from Friday July 14th, to Saturday July 22nd. On the final day (July 22nd) David's Tent will crescendo in an event called "Awaken the Dawn Regional." We will join many leaders, worshipers, singers, and intercessors, from all over the Northwest on the Capitol steps to lift up the name of Jesus for 10 straight hours of collective worship and prayer from many streams of the body of Christ.
We Gather Because Every Person Matters

God values every person and hears every individual prayer. Just like in natural government every vote counts, in Gods Government so does every prayer. I want to extend an invitation to you all to attend this historic event. Hundreds, perhaps thousands, will be coming from all over Oregon and the Pacific Northwest to worship and pray. Please consider coming as a Spiritual Representative of your city, and stand up in prayer with other believers to help create a mighty shift over our region.

Oregon has a bright future.

Jim Moore
Founder / Director
Salem House of Prayer

EVENT: David's Tent Oregon / Awaken the Dawn Regional
DATES: July 14th – July 22nd
LOCATION: Capitol Mall Salem Oregon
COST: This event is FREE

LINKS:

David's Tent Oregon:   http://www.davidstentoregon.org/

Awaken The Dawn Reg:   https://www.facebook.com/events/1804213106574615/

Sign Up For Worship Set:   http://www.davidstentoregon.org/lead-worship.html
Save
Save