Peter Carlson – Corvallis, OR  The vision for Pray Oregon is "To see Oregon united in Jesus through day and night prayer."
Our mission is to IDENTIFY Praying groups and what God is doing through them, PROMOTE what God is doing through them to the body of Christ, and ENCOURAGE one another through ongoing connection and support.
One way we carry out our mission is to visit praying groups and those who are helping network the state together in prayer. Several times per year we take a week or more to go to various sections of the state. This fall our tour was to all 36 Oregon counties, praying at the Courthouses and strategic sites, connecting with local praying people, and discovering what God is doing in our state. What an incredible 4 weeks of connections and Holy Spirit working this has been.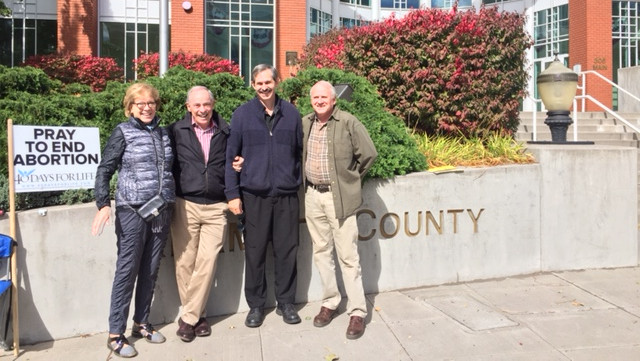 During a couple of days of listening prayer in July the Lord gave us Zech. 8:20-21, which we have adopted as our theme verses:
"Thus says the Lord of hosts: Peoples shall yet come, even the inhabitants of many cities. The inhabitants of one city shall go to another, saying, 'Let us go at once to entreat the favor of the Lord and to seek the Lord of hosts; I myself am going.'
There were 6 of us who traveled for a week or more to multiple counties, and at least 20 people who joined the tour for a day at a time traveling to other cities to unite in prayer for that city/county.
This is the first time that we have included all the Courthouses in one tour since April 2013 when Donald and Annabel first drove the whole state to get familiar with Oregon. In addition to praying at the Courthouses, we focused on connecting with the 9 federally recognized First Nations tribes in Oregon, as well as the Pray Oregon connectors who help network praying groups in their county.
Prior to this tour we had good connections with 3 Native tribes and a potential connection with a 4th tribe. Referrals are the best way to make new connections, but lacking those relationships, we took the step of contacting several of the tribe's administrative offices and simply telling them that we would like to ask permission to pray in the land and bring blessing from Pray Oregon to the tribe. We took a gift to 4 tribes on our tour as we followed up on these requests. We either established a connection or made a specific plan of action for following up with leaders of each of the tribes that we are still getting to know. We were also able to visit with leaders from the other tribes who we already have good connections with. We believe that it is essential to collaborate for the healing of the land, so please pray for these relationships with all 9 First Nations tribes.
A key objective in this tour was to find additional people to complete the network of connectors for all the counties. People from half of the counties in the state had previously committed to serve in this role. We have now identified individuals or have good leads to follow up in another quarter of the counties, so we feel that this was great progress. Interestingly, Marion County where we have our headquarters is one county where we don't yet have a connector. Please pray for the full network of connectors across the state to be established.
There was a noticeable improvement in many communities of unity and blessing. One measurable example of this is that Josephine and Jackson counties are now collaborating, rather than competing, in economic development. Kingdom presence and impact is evident in such things as the deployment of the Oregon Tabernacle Tent in Salem in June and Medford in September, as well as other united prayer gatherings such as in Redmond in July and 50 Days of Prayer in Tillamook County taking place again now. Two counties have prayer walked every street in their incorporated cities multiple times. More communities desire to establish the One Church One Day continuous prayer like Eugene/Springfield. It is hard to choose just a few examples when we heard God stories nearly every day from the Portland metro area to the rural areas.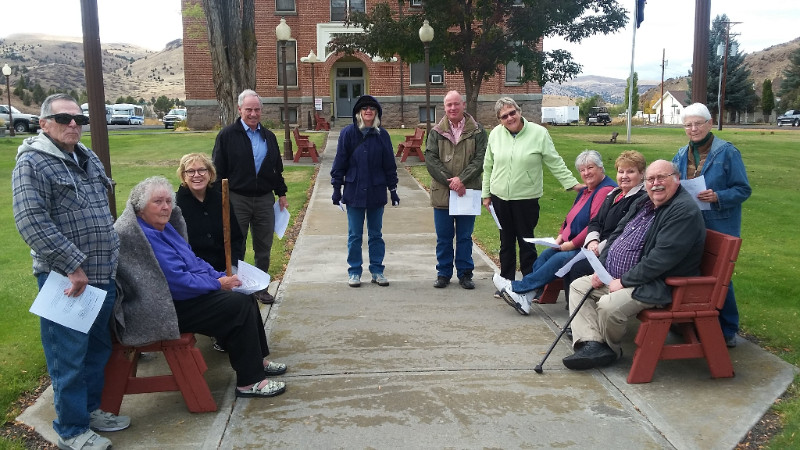 Of course, people are praying into the elections and asking the Lord for good officials in our state and nation. We were able to meet with a State Representative and a Circuit Judge. We had a County commissioner, a Mayor, and a candidate for State Representative join us at their respective courthouses to pray for their communities. We shared about an initiative to "Adopt a Legislator" as we met with people and encouraged them to find out about their State Representative and State Senator and uphold them in regular prayer. Please pray for the role out of this initiative and greater practice of 1 Tim. 2:1-2 across our state as we pray for those in authority.
We are so thankful to the Lord for His favor, protection, strength, and blessing as we covered 5000 miles, shared in about 140 meetings, and lifted up the name of Jesus. The hospitality of local people who provided lodging, meals, and support was wonderful. The prayers of hundreds of like-minded brothers and sisters, even dozens from other states, were critical for what was accomplished. What a privilege and joy to engage with each of you who were involved!